Maps & Media Projects

---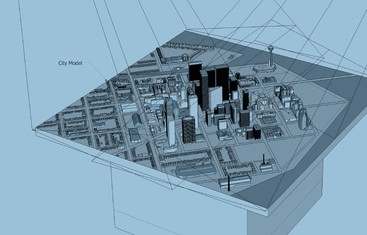 Stratigraphic City (2017) manifests both digitally and materially, as locative mobile media art in the form of a smartphone app and as an abstracted city model that acts as a screen for video-mapped cinematic projections. As a whole, the project aims to map the layers making up the ephemeral city of narratives and emotion, and to provoke a sense of strangeness about the places where we live.
Stratigraphic City will open at the upcoming exhibition Downtown/s: Urban Renewal Today for Tomorrow, the Art Gallery of Windsor Triennial of Contemporary Art from October 2017- January 2018.


---
---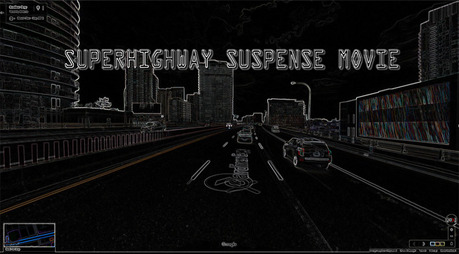 Superhighway Suspense Movie
(2016) is a study of automobility, the non-place of the highway, and the strange, frozen-in-time world of Google Street View. With a soundtrack that references suspense and sci-fi tropes gleaned from movies, it hints at fragments of a narrative in a time-travel loop. Made from over 2 thousand screen shots in Google Street View of a drive up the 403 highway from Toronto to Hamilton, this work engages with urban/suburban imaginaries and narratives of dystopian futures, while at the same time referencing what for many in Hamilton will be a very familiar route. This video loop combines a "fly-through" animation of highway 403 from Google Street View with a soundtrack made in collaboration with artist/musician
Christina Sealey
.
An early version of this video was shown at the Stories of the City exhibition, curated by the In/Terminus Research Collective at the University of Windsor, in November 2015.
---
---
Detours: Poetics of the City

(2012)

Multimedia website, produced with artist-run centre

Agence Topo
Detours

is a collaborative, multimedia website project, taking the form of a series of appropriated and reworked city transit maps, and using video, audio, drama, poetry and visual art to investigate the many ways of mapping the city. It works as attempts to relate stories, narratives, and human perspectives back into the map. In collaboration with

Adrian Gorea

,

Lance Blomgren, Gord Allen, Samuel Thulin, Emilie O'Brien, Donna Akrey

, and participants of

Accés Culture Montreal

's "cultural mediation" workshops, as part of the 2012

Biennale internationale d'art numérique

.
---
L'Acadie Fence

(2012)

Digital photo collage / essay

An extremely long photo-collage that documents the entire length of the controversial L'Acadie Fence in Montréal.

An early version was exhibited at the Contested Site: Archives and the City show at the FoFA Gallery (Montréal, 2012); and presented at (Re)Activating Objects: Social Theory & Material Culture (London, ON, 2013)The accompanying essay was published as

"L'Acadie Fence" in

Objects in Context: Theorizing Material Culture

(Stephanie Anderson and Cierra Webster, editors. London, Ontario: Lulu, 2013).




---
---
---
roadmaps: videopoems

words/video by Taien Ng-Chan

music on

roadmaps

by Scott W. Gray

Flash animation by Joe Ollmann

Roadmaps

is a series of videopoems about driving:

Driving Through the City

is a meditation on driving around the city at night, lovelorn, sleepless and restless, whereas

On the TransCanada

evokes the hypnotic silence of driving on the highway.

Deer Signs

is an ode to the comedy of deer signs in different Canadian provinces, and

Flight

evokes the rhythms of long-distance driving, the urge to drive on and never stop. In addition, the original CD-ROM included two videos that are not part of the series:

the red ribbon

and

orange

.

This project was first produced as a CD-ROM with the book

Maps of Our Bodies and the Borders We Have Agreed Upon

(

conundrum press

). Thanks go to the

Canada Council for the Arts

, and to

Cumulus Press

.

The videos can also be viewed at

vimeo.com/taien

.
---
FILM AND VIDEO ARCHIVES
(2003 - 2010)
H
ighlights include
Cockroach
,
a retelling of Kafka's Metamorphosis; Thin Walls, a short thriller that Toronto Eye Weekly called "
weird, Rear Window-esque";
and
Heart-ache,
a
trilogy of videopoems that explores voice, soundscape, and (auto)biography.
---